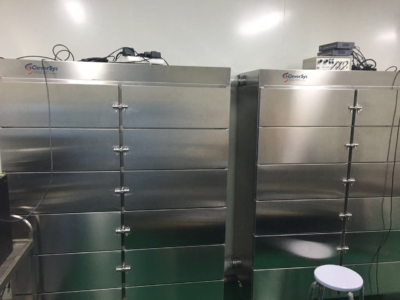 Description
CSI-ENV-IVC: IVC-RackScan
Clever Sys provides the first of its kind in the world of an IVC (Individually Ventilated Cages) Rack that is capable of performing 24‐hr video-based Behavior Recognition Analysis in real-time.
The IVC‐RackScan system from Clever Sys is a turn‐key solution for animal husbandry in labs where animals are also required to be analyzed for their activity and behavior. Heretofore, these two solutions were separate – IVC racks exist in the market but due to their density, there was no room to perform any kind of behavior analysis, and our traditional HomeCageScan automated Home Cage Behavior Analysis was done on passive racks only. With IVC‐RackScan, you can satisfy the requirements of cleanliness, separation and High‐Throughput that is asked from an IVC system, while simultaneously performing 24-hr home‐cage behavior analysis. If you are a scientist looking to run long‐term behavior analyses in home cages, you don't need to allocate valuable lab space for this equipment. Instead, the home cage behavior analysis could be performed in the animal facilities themselves.
The IVC‐RackScan Rack comes fitted with dual lighting panels (White + IR light) for continuous automated 24‐hr analysis, and associated filters, isolation and air circulation required from an IVC system. The included cameras auto‐switch between day mode and night mode, hence, no user intervention is required. Each IVC‐RackScan rack can hold up to 12 cages.
Download the brochure from the link to the right. Contact Us to learn more.
Dimensions
| | | | | |
| --- | --- | --- | --- | --- |
| CSI-ENV-IVC | 110 cm | 182 cm | 60 cm | mouse,rat |
| CSI-ENV-IVC-AIR | 55 cm | 165 cm | 31 cm | mouse,rat |