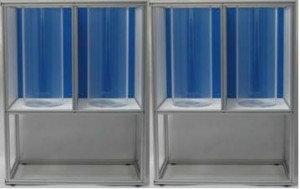 Description
CSI-FSW:  Forced Swim & Tail Suspension Cabinet
Clever Sys Inc.'s Forced Swim and Tail Suspension cabinet was designed for two depression  related tasks.  The color was specifically chosen to maximize animal detection for video analysis.
The separation walls are designed for high throughput screening allowing multiple animals to be tested at the same time.  This cabinet is for either forced swim tank separation or the tail suspension task.
The optional forced swim tanks are made of durable and easy to clean acrylic.  This hardware is ideal for use with our ForcedSwimScan, TailSuspScan, or DepressionScan Suite Software.  Available in 2-tank or 4-tank configurations.
Dimensions
| | | | | |
| --- | --- | --- | --- | --- |
| CSI-FSW: Cabinet | 62 cm | 67 cm | 45 cm | rat |
| CSI-FSW-Cabinet | 24.4 in | 26.4 in | 17.7 in | rat |
| CSI-FSW: Water Tank | 20.3 cm | 0 cm | 45.7 cm | rat |
| CSI-FSW: Water Tank | 8 in | 0 in | 18 in | rat |